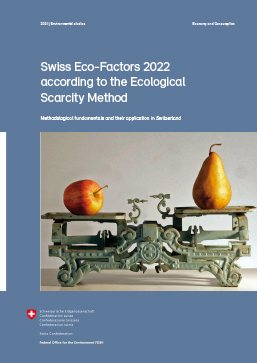 | | |
| --- | --- |
| Year | 2021 |
| Pages | 252 |
| Number | UW-2121-E |
| Publisher | Federal Office for the Environment FOEN |
| Series | Environmental studies |
Methodological fundamentals and their application in Switzerland.
The ecological scarcity method makes it possible to assess the impact of emissions, the use of resources and waste as part of a life cycle assessment. The key metrics of this method are eco-factors, which measure the environmental damage in eco-points (UBP) per unit of quantity. This publication describes how Switzerland's eco-factors are derived on the basis of current emissions in relation to the targets set out in legislation. This fifth edition adds eco-factors for the use of marine fish resources to the set of existing eco-factors. The assessments of water use and biodiversity loss through land use are now based on internationally recommended approaches. The method itself remains unchanged.
Swiss Eco-Factors 2021 according to the Ecological Scarcity Method (PDF, 7 MB, 23.12.2021)
Frühere Versionen

Last modification 23.12.2021