What natural hazards do we face in Switzerland?
Almost all possible natural hazard events could happen in Switzerland.
Natural events have always shaped the Swiss landscape. However, when natural events affect people, settlement areas or infrastructure, they become natural hazards.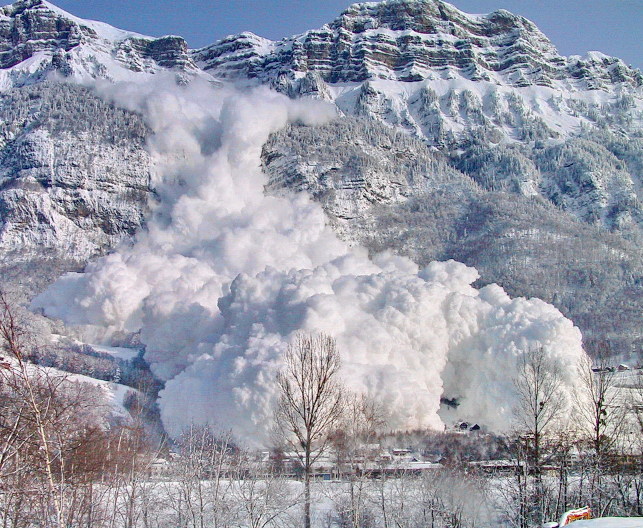 There are many different kinds of natural hazards. Landslides, rock slides, forest fires, avalanches, floods and earthquakes are all very different – but they do have one thing in common: they have all happened in Switzerland before. The table below makes it clear: almost any natural hazard event is possible in Switzerland.
| Natural hazard events | Do they occur in Switzerland? |
| --- | --- |
| Storms, hailstorms, hurricanes, cold spells, heat waves, droughts, forest fires | Yes |
| Floods, surface runoff, debris flows, landslides, rockfalls, rockslides, rock avalanches, avalanches | Yes |
| Earthquakes | Yes |
| Volcanic eruptions | No |
| Mass spread of pests and non-native animal and plant species | Yes |
| Lake tsunamis, meteorites, solar storms | Yes |
Natural hazards can cause serious damage and endanger human lives.
Between 1972 and 2022, floods, debris flows, landslides and fall processes (e.g. rockfalls, avalanches) in Switzerland caused damage of around CHF 305 million per year on average. More than 90% of this damage can be attributed to floods and debris flows.
Avalanches, rock slides and rock falls cause a disproportionately high number of fatalities and injuries.
Storms in the winter and hailstorms in the summer also cause significant damage to property. Drought is bad for agricultural crops and puts a strain on ecosystems that depend on moist conditions (e.g. floodplains). It also causes damage to forests and increases the risk of forest fires.
Earthquakes are potentially the most damaging natural hazard in Switzerland. Although major earthquakes are rare, they can occur at any time and anywhere – even outside known earthquake zones.
Climate change affects natural hazards in Switzerland
In Switzerland, climate change is a visible and tangible reality. And it is having an impact on the occurrence of natural hazards.
Rainfall has become heavier and more frequent. Some of this precipitation runs off directly at the surface, which causes increased local flooding.
Landslides, hillslope debris flows and other kinds of falls can also occur more frequently. Avalanches are now happening in areas where they never did before. In the summer, there are more heatwaves and droughts, which increases the risk of forest fires.
Climate change affects natural hazards. Efforts to protect the climate therefore also help protect against natural hazards.
"For any society to flourish, it needs a certain level of safety. This also applies to Switzerland and the protection against natural hazards."

Josef Eberli
Division Head
FOEN, Hazard Prevention
Where do natural hazards occur?
Natural hazard events can occur anywhere in Switzerland.
From mountain communities to towns and cities at lower elevations and in all four corners of Switzerland: the majority of communes have been affected by at least one natural hazard event in the past
Around 20-25% of building land is located in hazardous areas. Around two thirds of buildings in Switzerland could be affected by surface runoff in the case of heavy rain.
Hazard maps show where natural hazards could occur.
Hazard maps show where, how often, and to what extent natural hazards occur in different areas in Switzerland. The maps are freely accessible. Authorities and planners are required to consult them in their work.
«Because major natural hazard events are so rare, we tend to forget they ever happened – and because of this, we often seriously underestimate the risks.»
Friederike Braune »
Earthquake Preparedness
FOEN, Hazard Prevention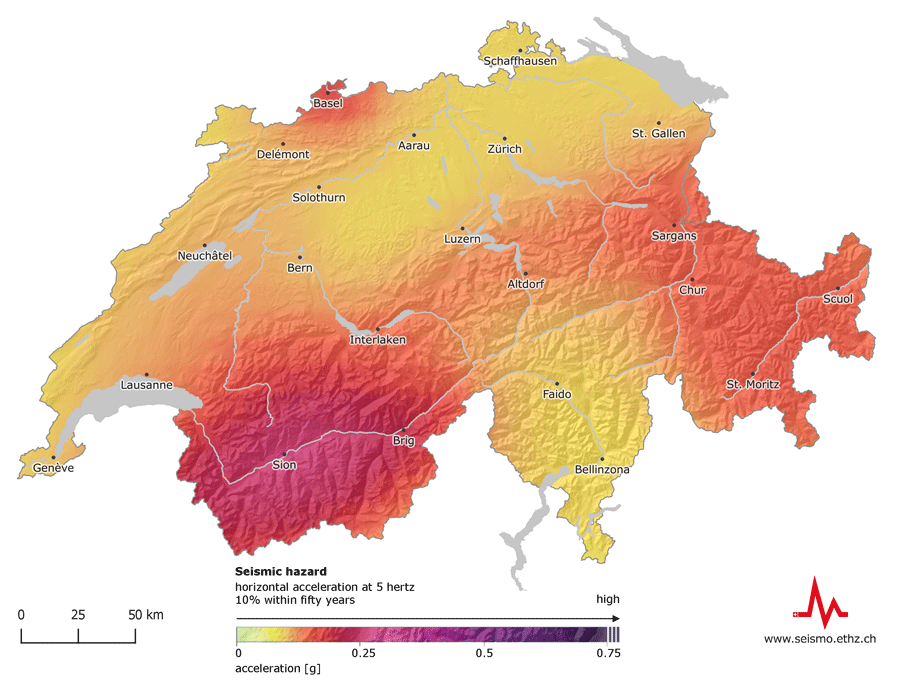 Where is it dangerous right now?
The Confederation's Natural Hazard Portal shows the current hazard situation.
On www.natural-hazards.ch you can find current alerts, notifications and helpful recommendations.
The portal helps you prepare for natural hazard events, see what the current situation is, and know what to do in dangerous situations.

«Protect yourself, the people around you and your home. Prepare for events, stay informed about the situation and follow the recommendations.»
Markus Müller
Risk Management
FOEN Hazard Prevention
How we deal with natural hazards in Switzerland
Who is responsible for protection?
Natural hazard protection is a community effort.
Authorities, insurance companies, planners, facility operators, citizens and transport companies – it takes the commitment of everyone involved to maintain and improve safety.
The authorities have a mandate to ensure that people and large material assets are protected from natural hazards. The cantons are particularly important here: they maintain hazard maps and carry out large-scale protective measures, for example. They also alert the population if there is a natural hazard event, and deploy emergency services to handle dangerous situations (e.g. the fire brigade or police).
Insurance companies also do important work: they offer advice to those affected about the risks they face and the measures they should take, and provide insurance cover if anything happens.
Finally, planners, transport companies, facility operators and citizens must factor in natural hazards when making decisions that could be affected by them.

In whose hands responsibility lies depends on the event.
Earthquakes, hail and storms
Protection against earthquakes, hail and storms is primarily the responsibility of the owners of buildings or infrastructure (e.g. railways).
Floods, landslides and fall processes (e.g. avalanches or rockfall)
Note: The following are general descriptions that apply in most cases; different rules apply depending on cantonal legislation.
When it comes to protection against floods, avalanches and rockfall, responsibilities are shared depending on where action is needed.
Measures at the source of a hazard (e.g. along a river, mountain flank or rock face) are usually the responsibility of the authorities (communes, cantons and the Confederation).
Measures that directly protect a structure (e.g. a building or railway line) are generally the responsibility of the structure's owner.
Citizens and planners also have certain responsibilities.
Citizens are responsible for their own safety and property.
Planners (e.g. managers, technical planners, consultants, specialists) are responsible for taking natural hazards into account in their work.
«Natural hazards can affect anyone. And everyone can contribute to limiting the risks.»
Dorothea Wabbels
Chief of staff
FOEN, Hazard Prevention
What is Switzerland's strategy?
Switzerland pursues an integrated risk management strategy.
Whenever people use at-risk areas there is always, by definition, risk involved. Natural hazard events can endanger human lives and cause damage to buildings and infrastructures. These risks can be identified and evaluated. They serve as a benchmark for measuring our safety.
Switzerland's strategy to improve safety against natural hazards follows the principles of integrated risk management. This strategy combines various protective measures to optimally reduce existing risks and prevent new ones.
Risk management is considered integrated when all parties involved do their part, different types of measures are combined, and a permanent commitment to safety against natural hazards is made every day – before, during and after an event.
Real-life example: integrated risk management for avalanches

Switzerland's avalanche protection measures are a good example of integrated risk management.

Experts assess the danger of avalanches in a specific area on behalf of the cantons. They do this with the help of models and observation. Hazard maps are based on this information.
Cantons and communes plan and implement the necessary measures. This includes maintaining forests to protect against avalanches and constructing avalanche barriers and deflection dikes.
Communal authorities add the hazards to their zoning maps. These maps are binding for property owners. Depending on the extent of the hazard – categorised by colour from yellow/white (residual risk), yellow (low risk), blue (medium risk) to red (serious risk) – different regulations apply to new buildings and renovations. These regulations range from building restrictions in yellow and blue zones to building bans in red zones
Research institutes and local authorities monitor developments in the avalanche situation. If there is an acute danger of an avalanche, alerts are issued, roads and paths closed and people evacuated. In the event of an avalanche, emergency and rescue services are deployed.
It is the responsibility of the individuals involved to keep themselves informed of the avalanche situation and to adapt their behaviour accordingly.

«Everybody assumes their responsibility, works together and does everything they can: that is integrated risk management.»
Wanda Wicki
Risk Management
FOEN, Hazard Prevention
What are the current challenges?
Safety has been improved – but risks are increasing.
Safety has been improved – but risks are increasing.
Protection against natural hazards has improved dramatically in recent decades. And the people involved are permanently committed to maintaining this level of safety.
However, in Switzerland natural hazard risks continue to increase – and with them, so does the level of damage. Increased risk means that future natural hazard events could have serious consequences.

The following are the main reasons for the increase in risk.
The risk is increasing mainly because settlement areas are growing. Too little consideration is being given to natural hazards when planning, constructing and maintaining property. Expensive and vulnerable buildings and facilities are constructed in endangered areas – without adequate protection against natural hazards.
In addition, climate change is increasing risk: natural hazard events are happening more often and more dramatically, and in areas where they never have before. Heavy precipitation, for example, has been occurring more often and more strongly. Sometimes the water cannot be absorbed quickly enough and runs off at the surface. This means more local flooding – even far away from streams and rivers.

With Switzerland's integrated risk management strategy, new risks can also be reduced effectively. Against the backdrop of climate change and the changing risk situation, existing plans and measures must be re-evaluated and adapted.
«From which tree species will the protection forest of tomorrow be constituted? This question is already on our minds today».
Benjamin Lange
Protection Forest
FOEN, Hazard Prevention
What you can do about it.
What can you do?
Where can you get information and support?
Do you have questions about protective measures for buildings?
Contact your cantonal building insurance provider.
Do you need detailed information on the hazard situation in a specific location?
Contact your commune's building authority or your cantonal natural hazard office directly.
Are you planning a building and have questions about hazards, building regulations or property protection?
Contact your commune's building authority or your cantonal natural hazard office directly.
Are you a member of the press and need further information?
Contact the FOEN's Media Office:
«Whether before, during or after an event: there is always something we can do to reduce the risk of natural hazards.»

Katharina Edmaier
Flood Protection
FOEN, Hazard Prevention

Last modification 11.07.2023